There are many forms and various paths to start abusiness, but among them, 'spray start-up' is one of themost effective methods. This is how the workforce whoworked for the parent company starts a business in thesame industry. It is often called "spinoff" and is a methodthat is often used in large companies. GTG Medical Co.,Ltd. (CEO Park Se-hwan), which won the Minister ofTrade, Industry and Energy Award at the 58th Trade Dayevent, also started its own business in the same way. GTG Medical Co., Ltd. has achieved sales of about$4.48 million in about seven months since it spun offin July 2020.  In particular, steady sales areexpected in the future as two research institutes havebeen launched to produce their own products.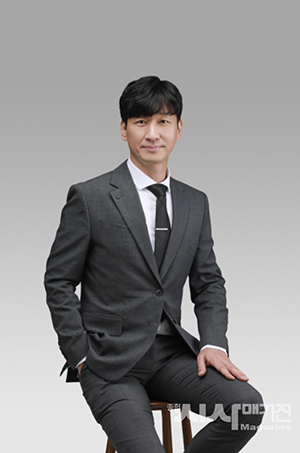 The top export of $3 million in a year since its foundation
In the beauty field, the brand "Korea" is now building a stronghold that is hard to overcome around the world. In particular, Korea has become the world's top three beauty product export powers after the United States and France. Park Se-hwan, CEO of GTG Medical, exports to Japan, Hong Kong, Taiwan, Turkey, Israel, and Colombia, and Japanese sales are continuously growing. In particular, the fact that it currently has 280 agencies and buyers around the world is a great competitiveness. The main products sold are PICOHOLIC, Maha-Z, a non-needle electronic drug-injected medical device, Leshape, a laser device effective in reducing waist circumference, and Amos for improving laugh lines using high frequency. In addition, the LED mask Opera Milux is the first LED product in Korea that can even manage neck skin, and also sells a face-lifting beauty device called WF using Electrical Muscle Therapy (EMS). CEO Park Se-hwan said he chose GTG Wellness Co., Ltd. because he wanted to work for a "good company" from the beginning. "After majoring in trade at university, I thought a lot about choosing my first job. That's how I joined the company now, and I worked for as many as 17 years from 2003 to 2020, and finally, I was the head of the overseas sales team. The reason why I chose this company is that no matter how much people can't afford, they continue to pay attention to their skin. Even after I started my own business, the demand for skin care has been steadily increasing, and the brand image of Korea is so good that I was able to cruise. As a result, it won the $3 million Export Tower in 2021. Although there is a parent company, it is the result of doing its best as a startup company, and it is even more honored that it has been achieved by nine small employees. Now we're going to keep moving forward to win the $5 million and $10 million export tower." Above all, I was able to steadily identify my needs through numerous overseas networks that I pioneered when I worked for my parent company, and the fact that I have been continuously striving to develop new products has helped me greatly in sales growth.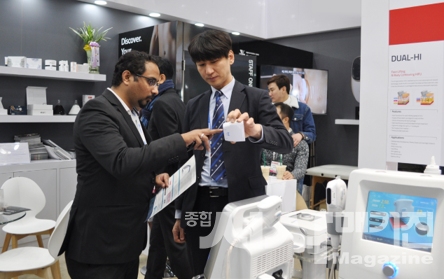 Sharing hand sanitizers with customers for free
In particular, CEO Park Se-hwan has a great advantage over his competitors in the "lineup of various product lines." Most companies handle only one or two products, but CEO Park literally supplies products that can take care of the whole body from head to toe, covering a wide variety of items such as skin, obesity, hair, and cosmetics. Above all, GTG Medical is capable of "fixed sales." Since it is not just cosmetics that are sold, but devices that are actually used for the body, accessories that are used together are needed and each cost about 1 million won. Therefore, consumers who have purchased GTG Medical's products must continue to purchase accessories over time, which can be fixed sales for the company. CEO Park started his business with distribution, but from the beginning, he established two research institutes with an emphasis on research, development, and production to add manufacturing industries. It is planning to complete the prototype at the end of 2021 and launch it in earnest in 2022. The ultimate goal through this steady development is to generate future planning-research-production-marketing foreign currency revenue through research facilities and manufacturing facilities. The reason why he can predict the future business with such confidence is that he has fully experienced the entire process from planning to selling to services through his work life. "I've learned enough about the entire distribution process at my parent company, and I've been leading the way to receive $3 million, $5 million, and $10 million export towers. As a result, I naturally draw a picture of which direction the company should go, and if there is only the launch and passion of new products, I don't think there is much difficulty in growing the company. In addition, last year, we actively participated in government support projects for technology development by supporting the in-house venture development program project of the Korea Startup Agency, increasing our experience and know-how." Until now, CEO Park has planned to participate in exhibitions from about 10 countries every year, and will actively participate again when the pandemic situation calms down a little. Representative examples include the French IMCAS Society, Arab Health Exhibition, Dubai Derma Society, Italy Cosmoprof Exhibition, KIMES Medical Device Exhibition, Monaco Society, Japan Beauty World Exhibition, European Society, and Hong Kong Cosmoprof Exhibition. In addition, CEO Park is always on standby to actively respond to jet lag issues between countries for smooth communication with customers, and is always communicating through e-mail, SNS, and Zoom. In addition, it has its own 'economic diplomacy' with overseas agencies and buyers. Hand sanitizers have been distributed free of charge and have been building ties with foreign companies by providing small but necessary items in the country. "There are several episodes because I have ties and business with foreign countries. Among them, I had an experience of really getting close to the buyer. From our company's point of view, the most difficult and difficult time is when the product does not work properly. Once, I exported a lot of supplies to Spain, but the machine didn't work well. I urgently dispatched the engineers and repaired them while staying together for a week. At first, the relationship with the Spanish buyer was not good, but later, we gained credit from the buyer and became really close as sales rose. Even though it is not a business relationship since then, 10 years later, we still keep in touch. At times like this, it's really rewarding and I'm proud of the product."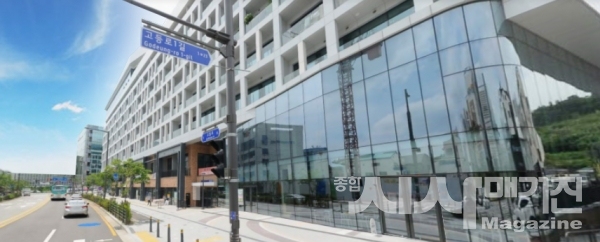 Contributing to job creation
As it is such a fast-growing company, it has achieved considerable results in job creation. Currently, four out of nine employees are newly hired, and with rapid development, at least five to 10 more employees will be hired by 2022. Above all, CEO Park Se-hwan considers "human relations" the most important thing while doing business, and even when hiring employees, he sees personality before human ability. This is because I believe that business with customers will be carried out naturally only when employees have good personality. Although it is not big recently, it is said that the office building has been established and is currently under interior construction. The quarantine against COVID-19 has also been thoroughly practiced. It has been operating flexibly to minimize commuting and work from home, and has also changed commuting hours to 10 p.m. and 4 p.m. This is because it was judged that contact could be minimized if employees of other companies avoid going to work at the same time. Finally, CEO Park Se-hwan left a New Year's message to customers and employees. "Even though our company is a start-up company, it has established a solid position in the field of beauty devices. We sincerely thank the OEM companies for trusting us and following us well, and we will continue to develop new products in the future, so we hope to participate and grow together. Since there is a steady demand, I think we can continue to develop if we can supply only good products. The same goes for employees. Although I say I'm working hard, I'm lacking a lot because it's my first time working as a representative. Nevertheless, I would like to express my gratitude to the staff for following me well. As we move to the new building in 2022, we are confident that we will be able to achieve greater results in the future if we work harder." In order to further develop and maintain the Korean Wave that swept the world, there should not be just cultural content. Just as Samsung and LG are materially supporting the Korean Wave through home appliances, Park Se-hwan, CEO of GTG Medical, is leading the spread of the Korean Wave through beauty devices. We sincerely hope that we will be able to further promote the status of "K-beauty devices" by steadily expanding exports of beauty devices in the future. 
http://www.sisanewszine.co.kr/news/articleView.html?idxno=12018